[ad_1]

The Hyundai Tucson facelift, having made its Indian debut at Auto Expo 2020 in February, is the Korean brand's flagship model for India, now that the Sonata (remember that?) and even the Santa Fe are long gone.
Sure, there's the Kona Electric, which serves as sort of a halo product at the moment, but if you want the biggest and most expensive expression of all things Hyundai, the Tucson is it. But does that make it the best Hyundai out there?
2020 Hyundai Tucson exterior design
The design changes for this facelift aren't quite as drastic as we've seen in some other recent Hyundais, like the Elantra and Verna, but they do well to enhance the Tucson's clean shape.
Tucson facelift's design changes aren't as drastic as the Elantra and Verna.
The 'cascading' grille is sharper and now in a chrome and gloss black finish, rather than brushed silver, the headlamps are full LED, and there's a new DRL signature around the fog lamps.
At the sides, you'll find a new design for the 18-inch alloy wheels, and over at the rear, there's been a slight reprofiling of the bumper with the reflector strips moved higher up and a new set of part-LED tail-lamps.
Rear styling is different compared to the pre-facelift model too.
The badging is a bit different too; the word 'Hyundai' is no longer spelled out and there's no indication of which engine is under the hood. It simply says Tucson on one side of the tailgate and 'HTrac' (the new name for Hyundai's AWD system) on the other.
2020 Hyundai Tucson interior
There's a more significant change on the inside. For one, the colour scheme is all black now, and on top of that, the dashboard has been almost entirely changed. Gone is the tall, slab-like and slightly dated-looking fascia, and in its place a curvier, more layered layout.
The interiors now get an all-black theme and a new dashboard.
A thick segment of this is wrapped in double-stitched faux leather, and the touchscreen – still 8.0 inches in size, but of a wider aspect ratio now – sits in a freestanding binnacle on top of, rather than inside, the dash.
While the black colour might seem a little dour to some, there's no doubt the shapelier dash lends it a bit of visual relief; not to mention a better view forward. Speaking of which, one thing we're glad they fixed is, oddly enough, the front passenger seat. It used to be placed far too low, and could not adjust for height, which meant the co-driver often felt like they were under the dash. This time it's powered and can be raised up.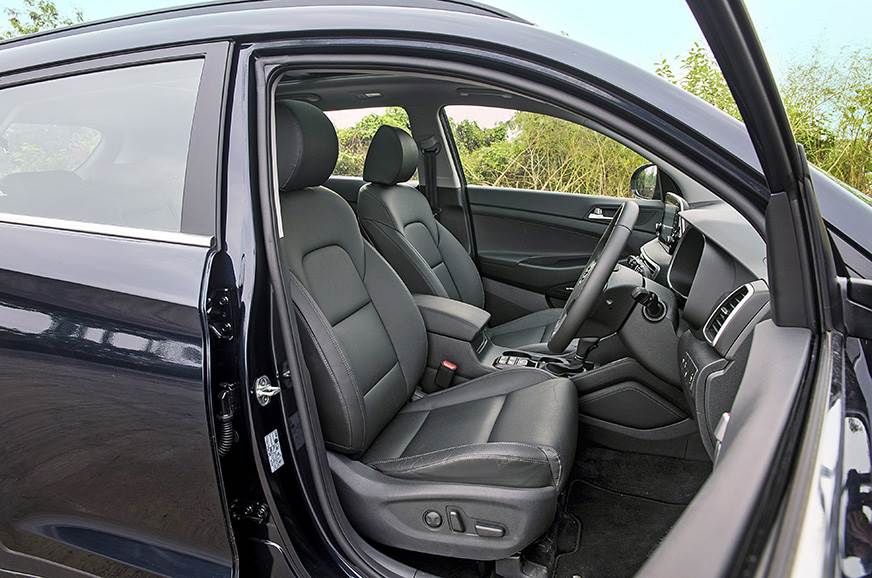 The 10-way adjustable driver's seat is great for shorter drivers.
Though the faux leather on the dash adds some class and plastic quality is typically Hyundai good, it has to be said that, in this price range, buyers would expect a little more.
2020 Hyundai Tucson features
It's a flagship Hyundai, so of course it has the best features, right? Well, to an extent. Big-ticket additions this time around are the powered passenger seat (in addition to the already-powered driver's seat), a wireless mobile phone charger and a panoramic sunroof, but one recent Hyundai staple they didn't manage to squeeze in was ventilated front seats.
Panoramic sunroof standard on both GL(O) and GLS variants.
The new touchscreen gets the full suite of Hyundai's BlueLink connected-car tech, including SOS functions, an onboard e-SIM and a partner app that lets you monitor the car remotely. There is, of course, Apple CarPlay and Android Auto, as before.
New 8.0-inch touchscreen infotainment system now gets Hyundai's BlueLink connected car tech..
There are plenty of other goodies, including auto headlamps and wipers, keyless entry and go, dual-zone auto climate control, driving modes, a powered tailgate with hands-free opening, and a new, nice-sounding eight-speaker sound system from Infinity.
Eight-speaker Infinity music system sounds nice.
You might think it odd then, that the smaller, cheaper Hyundai Creta has more features – including ventilated seats, a larger 10.25-inch touchscreen and part-digital instrument cluster. The simple fact is, generationally, the Tucson is a much older model, dating back all the way to 2015, so at this stage, there are only so many things they can upgrade.
2020 Hyundai Tucson space and practicality
Interior space continues to be one of the Tucson's USPs. It's not a 7-seater, but there is a vast amount of room for five. The rear seat is wide enough for three to sit comfortably, with excellent knee room. Headroom, though, is a little less than before, due to the frame for the panoramic sunroof, but it is still very generous. You can even recline the rear seat backrest a little for a bit more comfort.
Shoulder room, headroom and kneeroom at the back are excellent.
The only grouse, perhaps, is that you sit uncharacteristically low for such a large SUV, and the windowsills are quite tall. This, combined with the new all-black colour scheme, could reduce the sensation of space slightly, but the big sunroof goes a long way to alleviate that.
Boot space is still a highlight.
Boot space continues to be very generous, and can easily take a family's weekend luggage, and then some. You also get a big, roll-out luggage cover to conceal your belongings.
2020 Hyundai Tucson engine, gearbox and performance
For the facelift, Hyundai has ditched the manual gearboxes altogether due to low customer demand, and the 2.0-litre petrol engine continues as before (albeit in BS6 guise) with its 6-speed torque-converter automatic gearbox.
The car we're driving today, however, is the top-spec 2.0-litre diesel, which, apart from getting an SCR (selective catalytic reduction) unit, DPF (diesel particulate filter) and AdBlue dosing tank in its shift to BS6, has also moved to a new 8-speed automatic gearbox. And as you may have deduced from the HTrac badge mentioned earlier, this car has AWD, which is only available on the top-spec diesel.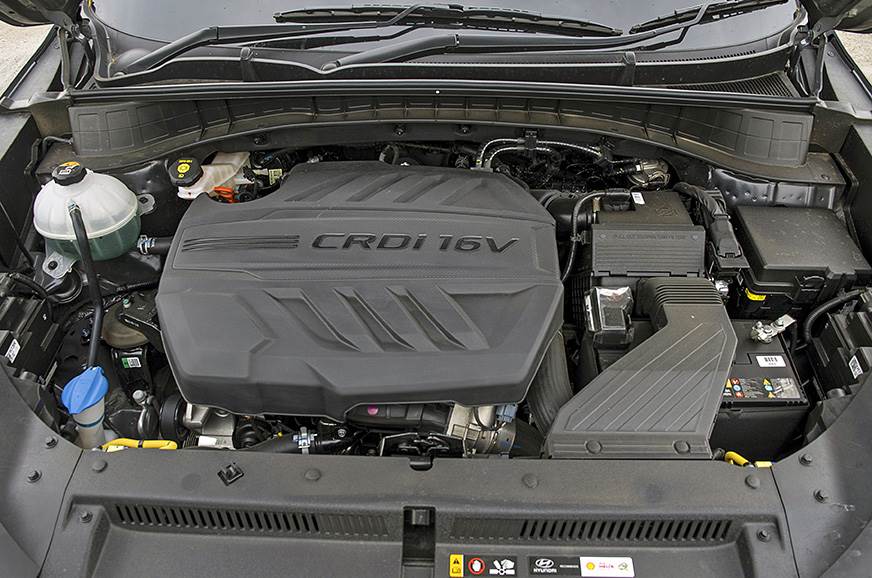 185hp, 2.0-litre diesel engine upgraded to meet BS6 norms.
The engine is as we remember it before, smooth and largely refined, until you reach the upper extremes of the rev band, where you can hear a bit of a grumble. Its healthy outputs of 185hp and 400Nm remain the same, and the engine is nice and responsive off the line.
There are drive modes – Eco, Comfort and Sport – and they, thankfully, do what they're supposed to. Comfort is a good mix of responsiveness and ease of use, Sport sharpens up the engine and gearbox considerably, and Eco saves you fuel without making the powertrain feel too lethargic.
The old 6-speed auto was smooth and responsive enough, but this new 8-speeder just feels that little bit better in these respects. It has more ratios to play with, of course, which it shuffles through seamlessly, and save for the odd time it was a little slow to downshift at low speeds, it almost always has just the right ratio for any situation. Paddle shifters, however, would have been a nice inclusion this time around.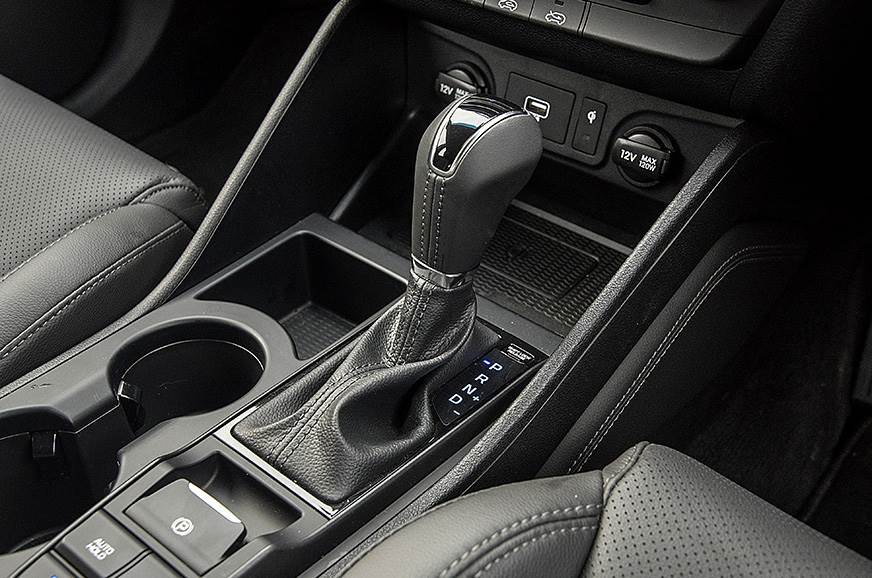 New 8-speed automatic gearbox feels superior to the outgoing 6-speed unit.
It's also allowed the Tucson diesel AWD to be slightly quicker than its BS4 predecessor – by 0.3sec – to 100kph from a standstill, at 9.76sec. Moreover, its kickdown or overtaking times of 5.62sec from 20-80kph and 7.14sec from 40-100kph are almost 1sec quicker than before.
As before, it's a strong engine, even in a car of this size, and the shift to BS6 doesn't seem to have dampened things too much at all. It's not particularly rev-happy, but you still get quite a satisfying shove in your lower back as you power through the mid-range.
2020 Hyundai Tucson comfort and handling
As before, the Tucson diesel remains a big, capable and comfy family cruiser that's great for long highway drives, and that's not just down to the strong reserve of power. It's set up quite softly and this allows for great bump absorption at low speeds, even with those 18-inch alloy wheels.
The Tucson is great for long highway drives.
And as you pick up the pace, there isn't too much float, so it maintains its composure well out on the highway; road and wind noise are kept in check too.
It is, however, not an enthusiastic handler, and you'll want to dial it down a little bit in the corners, because there is a fair amount of understeer and quite a bit of body roll too. The steering puts on a good amount of weight as you go faster, but it's not particularly feelsome or rewarding.
Bump absorbtion at high and speeds is a USP. 
The other thing is that, though even shorter drivers can motor themselves up to a good driving position with the 10-way adjustable driver's seat, the Tucson always feels its size from behind the wheel. This isn't helped by the outside rear-view mirrors, which are small and don't give a wide enough field of view for such a big car.
2020 Hyundai Tucson price and verdict
The prices have gone up a bit with the facelift and the move to BS6, and the 2020 Hyundai Tucson price range starts at Rs 22.3 lakh (ex-showroom, Delhi). This top-spec model, however, costs a not-inconsiderable Rs 27.03 lakh.
That's proper premium SUV territory, and while the performance, size and space do justify it to an extent, when you look at it in the context of Hyundai's own, arguably more modern bestseller, the Creta (which tops out at Rs 17.31 lakh), it does seem like a bit of a stretch.
The Tucson is still a quality pick for the space on offer and the brilliant ride quality.
There is an all-new Tucson on the horizon too, which will likely even get seven seats, but that's still well over a year away from launch. In the interim, then, what you're getting is a big and comfortable, 5-seat family SUV with most of Hyundai's key strengths – refinement, quality, equipment and reasonable maintenance costs. It may not be the excellent all-rounder the Creta is, but your money certainly does get you a lot of Hyundai. 
Also see:
2020 Hyundai Tucson facelift video review
Kia Sonet vs Hyundai Venue comparison
Hyundai i20 N revealed with 204hp
Up to Rs 1 lakh off on Hyundai cars in October 2020
[ad_2]

Source link