[ad_1]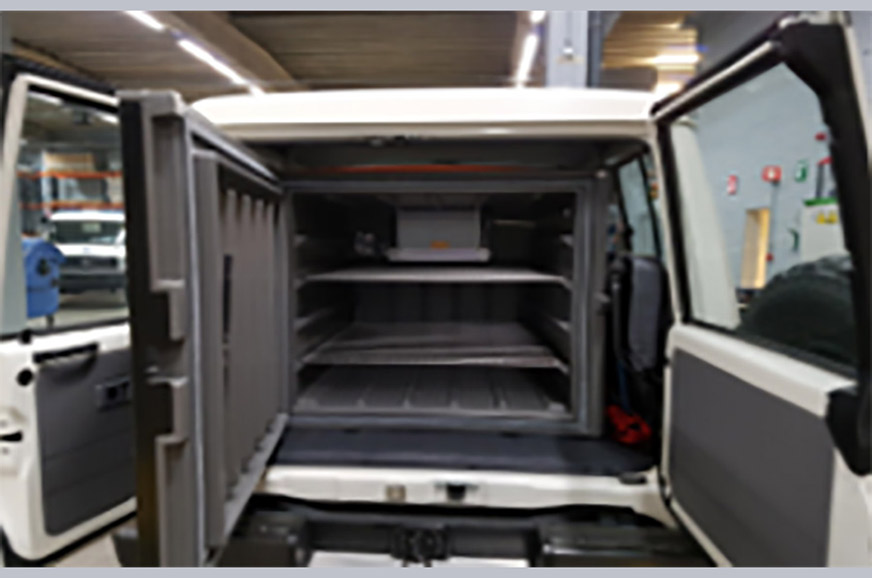 The Toyota Land Cruiser refrigerated vaccine transporter has become the first such vehicle to receive the World Health Organisation's (WHO) Performance, Quality and Safety (PQS) prequalification for quality of medical devices and equipment. Developed from the Land Cruiser's 70-series, the Land Cruiser 78 refrigerated vaccine transporter is the result of a collaboration between the Toyota Motor Corporation, Toyota Tsusho Corporation, and B Medical Systems.
Rear compartment holds 396-litre refrigerator with independent power supply
Refrigerator can run up to 16 hours on independent battery or via the SUV's engine
Toyota Land Cruiser 78 refrigerated vaccine transporter: what is it?
Let's start with the SUV itself. The Toyota Land Cruiser has been around for a long time now, with the car also having been offered in India in the form of the massive Land Cruiser LC 200 or the 200-series SUV and the smaller Land Cruiser Prado. This though is based on the 70-series of the Land Cruiser. Originally introduced back in 1984, the 70-series is currently the longest running variant of the Land Cruiser range. It is the workhorse of the range and lacks many of the luxuries offered in the 200-series or the Prado. The 70-series Land Cruiser is available in multiple configurations, including single- and double-cab pick-up (Land Cruiser 79), the short-wheelbase five-door wagon (Land Cruiser 76) and three-door troop carrier (Land Cruiser 78), which offers seating for up to 13 or additional cargo space.
The Land Cruiser seen here is based on the troop carrier model, as indicative by its rising roofline, three-door configuration and quad rear windows. Modified by Toyota Customizing & Development Co., the SUV carries a 396-litre vaccine refrigerator in the rear compartment, along with a battery pack capable of running the unit for up to 16 hours. Additionally, the unit can also draw power from the SUV's engine or an external source.
As always, the Land Cruiser 78 comes packed with 4WD and rugged running gear, making it more capable of accessing remote locations.
World Health Organisation's PQS prequalification: what is it?
The WHO's PQS prequalification is essentially the quality standard that needs to be met by manufacturers developing medical devices and equipment, in order to be able to supply them to the United Nations. The PQS precertification means that the modified Land Cruiser 78 meets all the standards set down by WHO and can be acquired by United Nations related agencies and NGOs across the world for effective transport of vaccines.
Also see
Toyota President Akio Toyoda awarded 2021 World Car Person of the Year
Toyota Fortuner, Innova Crysta, Camry prices hiked
Toyota GR 86 coupe revealed
[ad_2]

Source link