[ad_1]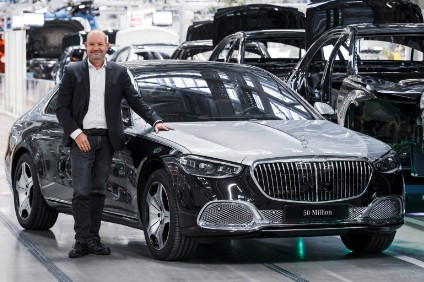 Milestone Merc was built at Daimler's new Factory 56 in Sindelfingen
The first new Mercedes-Maybach S-Class from Daimler's Factory 56 has been deemed the 50 millionth car from the company's global production network.
"Fifty million vehicles produced is a significant milestone in the history of our company," said Joerg Burzer, production and supply chain head. 
By 2022, six new EQ EV models will be in series production worldwide. Batteries are supplied by plants on three continents with Daimler saying local battery production is a key success factor for its electric offensive.
Also from 2022, production at all plants will be CO2-neutral. 
The Maybach S-Class came off the line at Sindelfingen's new Factory 56 opened in September 2020.


[ad_2]

Source link