[ad_1]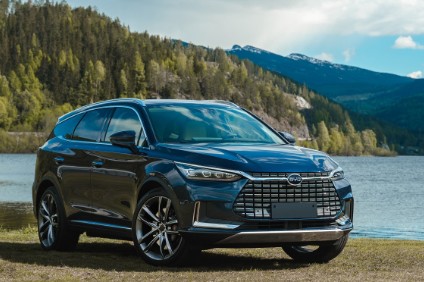 Even though BYD is known for electric cars, petrol-powered SUVs continue to account for the majority of sales
BYD delivered 415,046 vehicles to customers in China last year, an 8% drop compared to 2% for the market. January deliveries, however, were up 68% to 42,401, in a market which rose by 29.5% to 2.503m.  Even though the company is known for electric cars, petrol-powered SUVs continue to account for the majority of sales. Which is why BYD plans to continue with a mix of EVs, HEVs, PHEVs and combustion-only models in the 2020s. Many compare BYD to Tesla but the Chinese firm is far bigger – at least in its home market – than the American OEM, which delivered 135,449 locally built vehicles in 2020 plus 11,497 (-74%) imports.
Trouble at Ssangyong: it said it would extend the suspension of its local plant due to a lack of parts supplies from contractors. The financially troubled automaker had already halted its plant in Pyeongtaek on 24 and 28 December and 3-5 February as its suppliers refused to deliver parts due to outstanding payments, according to a local media report. The SUV-focused carmaker filed for court receivership on 21 December after it failed to obtain approval for the rollover of existing loans from its creditors.
After a grim full year 2020 due to the COVID-19 pandemic, third fiscal or fourth quarter results have been encouraging. Ford posted a surprise Q4 operating profit and pledged to up its investment in electric vehicles, adding it had advanced its business turnaround with its Q4 results. It posted a Q4 net loss of US$2.8bn (versus a loss of USD1.7bn in Q4 2019) but also an adjusted operating profit (EBIT) of USD1.7bn for earnings per share of 34 cents (against analyst estimates of a 5-8 cents loss). Ford said it had improved results in all regional auto businesses and Ford Credit. North America EBIT was up 53% to USD1.1bn. In Europe, Ford posted USD414m in EBIT – its highest quarterly profit in the region in more than four years – and an EBIT margin of 5.8%. Through the first phase of restructuring, Ford said it has reduced its annual structural costs by USD1.1bn. All three business focus areas – commercial, passenger and import – were profitable in the fourth quarter.
A British materials company is planning further growth of applications for its 'activated carbon' air suspension technology following its use on current-generation Audi A6 and A7 models. Activated carbon is formed from organic carbon matter, typically made up of stock like coconut shells or sawdust. To learn more, we spoke to John Coakley, Carbon Air CTO.
Renault's Romanian unit Dacia has suspended production due to a worldwide shortage of semiconductors, according to the country's labour minister Raluca Turcan. "The Dacia plant in Mioveni has stopped its activity due to the global semiconductor crisis, a situation that affects 50% -60% of the production activity and approximately 8,000 workers," Turcan said in a social media post following a meeting with representatives of the Romanian Automobile Manufacturers Association and Concordia Employers' Confederation, romania-insider.com reported.
Hyundai Motor and Kia Motors have both denied that they are negotiating a deal to produce electric vehicles in partnership with US computer and mobile phone giant Apple Inc, according to local reports citing separate regulatory filings. In separate filings, the two automakers also confirmed they are "not in talks with Apple over developing an autonomous vehicle", after Bloomberg reported over the weekend that they had held talks with Apple about building an electric vehicle but that the discussions have been "suspended". The South Korea group did confirm that it is considering forming partnerships with overseas companies in the area of self-driving electric vehicles, but that a decision has not yet been made.
While China gets most of the mentions these days, Tesla continues to expand into smaller markets as well and has opened its first office in Bucharest, Romania, local media reports said. Tesla also has investment plans for the country. It reportedly plans to install Supercharger stations in four cities this year, with the first on the list being Timisoara. The other three are Bucharest, Pitesti, and Sibiu.
Michelin is to start construction of its first tyre recycling plant in collaboration with Enviro, a Swedish company which has developed technology to recover carbon black, oil, steel and gas from end-of-life tyres. Based in Chile's Antofagasta region, the plant will be able to recycle 30,000 tons of earthmover tyres a year. Work will begin in 2021, with production scheduled to start in 2023. More than US$30m will be invested in building Michelin's first new-generation end-of-life tyre processing plant.
The ZF Group said it had received "several large-scale orders from North American vehicle manufacturers" for its eight-speed PowerLine automatic transmission, including "the largest individual commercial-vehicle-related order in company history". Production will start in 2023 at Gray Court, South Carolina where ZF is expanding its transmission plant, spending EUR150m and creating 500 new jobs. After winning "several major orders in the passenger car segment", ZF said it had approached new customers with a variant of the transmission for CVs.
Finally, a reminder of our ongoing series of motor show new model launches. Latest is for Shanghai where just-auto's list of global premieres for 2021's biggest motor show includes the Lynk & Co 02 Sport.
Have a nice weekend.
Graeme Roberts, Deputy Editor, just-auto.com


[ad_2]

Source link