[ad_1]

Some things never change. As the VTEC system kicks in past 3,500rpm, I feel a firm push in my lower back. . . . that keeps increasing all the way till 7,000rpm. And then, as I shift up to the next gear, the rush that comes from the ever increasing acceleration just carries on. Ahhh, that heady feeling, that's never getting old.
Like the earlier-generation cars, this City is also one I tend to drive a bit differently. Always on the lookout for a big gap in traffic, that allows me to stretch this car's legs, I'm like a junkie looking for my next hit. And what's great is that the hit, this time around on the new City, is a bit stronger.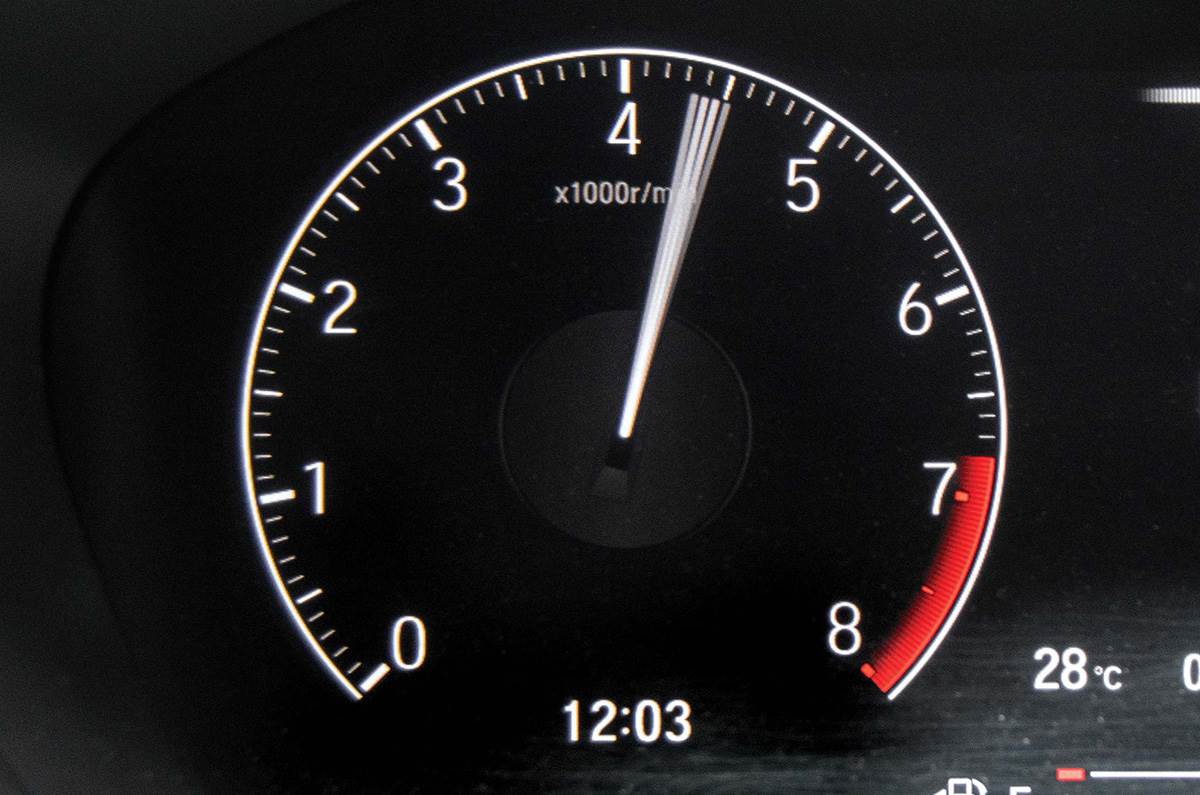 7000RPM: Honda's new 1.5 petrol has the power and enthusiasm to brighten up your day.
There's a bit more oomph past 4,000rpm, it seems to get a second wind as you cross 5,500rpm and then, as you approach 6,500rpm, it feels even more free-revving . . . . almost like it is built to spin at these speeds. It probably is. This new twin cam engine has a bit of a muted chain-saw buzz at higher engine speeds, and that initially is disconcerting, but the engine pulls so sweetly, and bumps into the limiter so effortlessly, you soon sort of ignore it. Does anyone make naturally aspirated engines as fun as Honda?
Even the weedy tyres are still the same. The City, incredibly, still comes with nothing more than 185mm wide rubber. Thankfully the 'cycle' tyres punch well above their 'weight', and you don't really feel a massive deficiency when it comes to grip under regular driving conditions.
WEEDY TYRES: The 185 tyres grip well, but wider tyres will improve the car's dynamics by a fair margin.
Then there's the rear bench. Covered in 'leather' and now nicely contoured, it offers good support for your thighs, the backrest has just the right recline angle and lateral support is so good that comfort levels are considerably enhanced.
Also unchanged is the 'light', typically Japanese feel of the City. That said, the door-shut is considerably better, the cabin feels better encapsulated and then, importantly, the chassis even feels stiffer.
LESS THUMP, THUMP: Low-speed ride is much improved over earlier-gen cars, overall comfort levels are much higher.
But the new City is also different. That jiggly, unsettled feel at low speeds, that's gone. And the City even takes some bad roads in its stride. This is quite a relief, especially on Mumbai's pockmarked roads, where the earlier City's suspension always felt 'busy'. This one is clearly more relaxed, more settled and easier to live with on an everyday basis.
What's also different, and clearly nicer, is the steering; clearly the best on any Honda City yet. While it's still light and easy to twirl in traffic, it is now also more direct, more accurate and even has a bit more feel to it. This sort of gives you the best of both worlds. Must say, it's a happy compromise, one that works well in all circumstances.
The ground clearance on the City is more than sufficient, even over bad roads.
I have yet to take it on a long expressway jaunt across to Pune or Lonavala, and that will prove to be revealing I'm sure, but I did take the City across the bay to Alibaug, where it proved to be pretty capable. The improved suspension sure does make a marked difference, especially over roads maintained by the local zilla parishad. And the 506-litre boot swallowed a fair amount of luggage.
What I also really like is the driving position and especially the seat, which feels far superior on long drives. At times, I feel there's a bit too much lumbar support and adjusting seat height with the creaky lever is a bit of a pain. Still, once you are settled, comfort is very good. I also like the manner in which the rim of the sporty steering feels in my hands. And aren't the click wheels, which control the air-con system with their illuminated knobs and colour-coded temperature controls, a joy to use. I find myself adjusting both, just for the heck of it.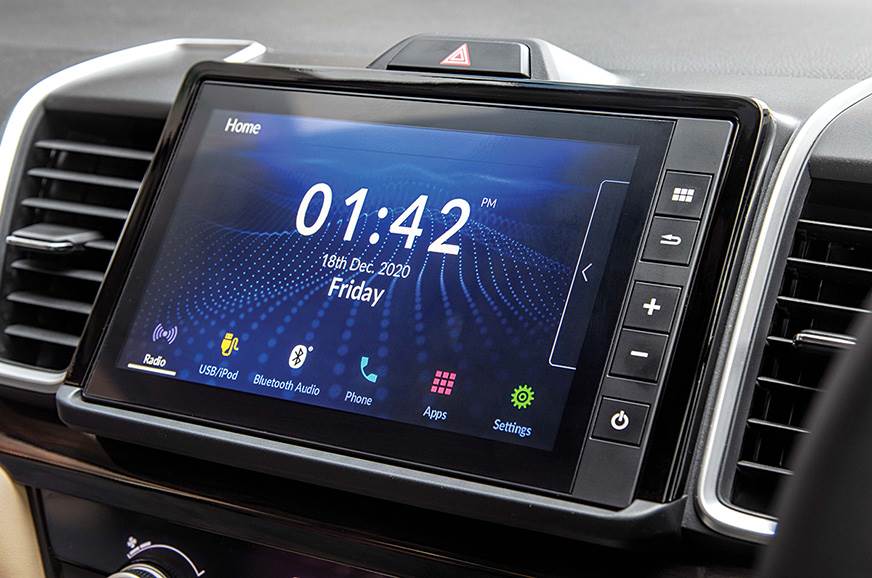 PARTIAL CONNECT: Touchscreen and interface look and feel aftermarket; not as slick as they could be.
Things I don't like include the gearshift – it feels a bit vague when you are in a hurry, the engine lacks the punch of a turbo in the midrange, and then there's the aftermarket-like touchscreen. Yes, functionality is good on the latter, and Apple CarPlay improves the user experience massively, but I just don't get why Honda shies away from its own proprietary user interface, one it can carry across its range.
Jobs for the 'upgrade' include upsized or wider tyres, and then sourcing a more free-flowing air filter (from someone like BMC or K&N) is another priority. A bit more grip and an improved airflow should go a long way in making the City more fun to drive. Can hardly wait. And I must say, I am enjoying the sedan experience massively, especially after a string of SUVs.
Also see:
Up to Rs 64,400 off on Honda City, Amaze, WR V, Jazz, CR-V in February 2020
Honda City exports commence to left-hand drive markets
Nissan, Honda, Tata post strong sales growth in January 2021
[ad_2]

Source link