[ad_1]

The Virgin Hyperloop has revealed a number of new details with regards to the design and concept of its Hyperloop portals and pods. With the Hyperloop, the company aims to provide a fast and safe travel experience to its passengers.
The Hyperloop portals will have similar layout to modern train stations.
The commercial pods will seat up to 28 passengers.
Virgin to construct Hyperloop corridor between Mumbai and Pune.
Virgin Hyperloop: What is it?
In essence, the Virgin Hyperloop is a new, more environment-friendly form of transportation similar in concept to trains. However, instead of carriages and train tracks, the Hyperloop has a fully autonomous pod that accelerates gradually using electric propulsion in low-pressure tubes. These pods are lifted by magnetic levitation and then glide in the tubes at speeds of around than 1,080kph (670mph) as they benefit from ultra-low aerodynamic drag caused by the near-vacuum environment in the tubes. Due to the ability to maintain these high travel speeds, the travel times to any destination are considerably reduced.
The Virgin Hyperloop pod using magnetic levitation inside the low-preassure tubes.
Virgin Hyperloop: terminal and pod design
Virgin has released a video showcasing its plans for what the commercial Hyperloop portals (terminals) and pods will look like. Let's start with the portal design, which, while being reminiscent of modern train/metro stations, will be designed to look more minimalist and futuristic. The terminals will also utilise a lot of tech, with sleek digital displays positioned all over the terminal for information and guidance. The terminals and tubes will also be covered with solar panels to provide some renewable energy.
The Hyperloop portal's minimalist and modern design.
The commercial pods will seat 28 occupants and will be much larger in size than the one used in the first Hyperloop tests conducted with human passengers. The pods too, will sport much of the modern and minimalist aesthetic seen in the Hyperloop terminal concept. The interiors of the pods will feature wood panelling around the seats to add some warmth to the cabin. There will also be a sunroof of sorts, which will add to the airiness of the pods.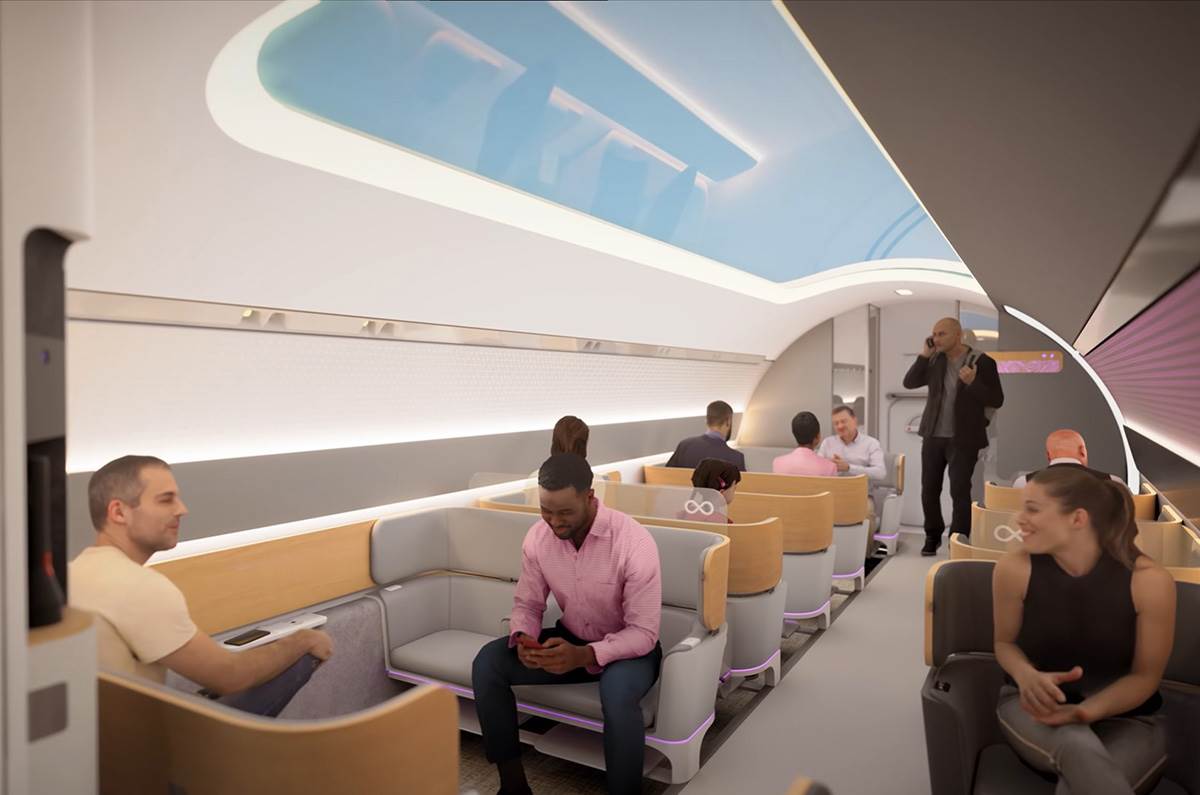 Interior design of the Virgin Hyperloop pods
Virgin Hyperloop: why is it relevant to India?
As per an agreement Virgin Hyperloop made with the Government of Maharashtra in 2018, the company will construct the Hyperloop One between Mumbai and Pune. Once the Hyperloop is up and running, it promises to cut travel time down from the current, approximate three hours to just around 25 minutes.
Furthermore, Virgin Hyperloop recently announced a partnership with Bangalore International Airports Limited (BIAL) to conduct a feasibility study for a proposed hyperloop corridor from the airport.
[ad_2]

Source link