[ad_1]

Super-SUVs – two-and-a-half-tonne behemoths with outrageous body kits, absurdly large wheels, and several hundred horsepower – are all the rage. Considering the way some of them can bend physics to their will while offering a go-(almost)-anywhere ability, it's easy to see the appeal they have.
But spare a thought for the original fast family car: the super-sedan. Let's be honest, if you really care about driving, you know why a low-slung sedan trumps a high-riding crossover. These souped-up sleepers have been scaring supercars away from the traffic lights for decades now, and I'm happy to report they're still at the top of their game. Just look at the new Audi RS7 Sportback – isn't it a sight to behold? It's big, for one, at over five metres long and nearly two metres wide without its mirrors. How big is that? Well, this test car is riding on 21-inch wheels, and these are the small size — you can option 22-inch wheels! It masks that size to an extent with its sloping 'sportback' roof and flared wheel arches. The rear undertray that houses the RS-signature oval exhaust tips is so wide, it practically bursts out of the bodywork, and the cliff-like front end is almost at odds with the rest of the car's curves. But all of it just works. And, oh yes, it wouldn't be a modern Audi without an intricately designed set of LED headlights and tail-lights, which do a cool little dance each time the car wakes up. Moreover, the RS7's civilian counterpart, the A7, isn't on sale in India, so when you see one of these pull up next to you, you won't mistake it for anything else.
Next to it is the latest iteration of the original super sedan. The M5 Competition is a peregrine falcon to the RS7's peacock — far more understated in displaying its performance intent, and to the uninitiated, not quite as easy to distinguish from, say, a 530d M Sport. A true sleeper, then, especially if you opt for a less radical paint shade. You might have to point out the M identifiers to your less-clued-in friends – the air vents on the front flanks, the subtly aggressive front bumper, the aerodynamic 'flicks' on the rear-view mirrors, the lip spoiler on the boot, and of course, the quad exhaust pipes. This Competition version does at least highlight some of the exterior details in gloss black to make them more obvious. What it also does is lower the suspension by 7mm, and especially at the rear, you can see that this car is really slammed to the ground. And why is there no sunroof like on the RS7? Because the M5 has a carbon-fibre roof to lower the weight and, by extension, the centre of gravity.
Max Relax 
They've, mercifully, not given as serious a performance focus to the M5 Competition's interior, and the environment is not of some stripped-out racer, but, instead, that of a top-tier BMW. Plush leather, cross-stitching, contrasting colours, ambient lighting and cool metallic trim, plus some of the most supportive (yet comfy) and widely adjustable sports seats around. There is a driver focus, of course; the same as you'll find in all BMWs, with a low seating position and a cabin that wraps itself around the driver. The thick M steering wheel returns with its racecar-like M1 and M2 toggle switches (the Audi has a more conventional 'RS Mode' button on the wheel for the same purpose), but unfortunately, so do BMW's new digital dials which are hard to read on the move.
Low-set seat in the M5 is cocooned by the cabin and gives a really sporty feel.
Save for this test car's optional entertainment screens (you would think 625hp would be entertainment enough!), this is a standard 5 Series rear seat. It's a little low set and the backrest is a touch upright, but space and comfort are both really good.
But the RS7 is simply better. Those larger dimensions have translated beautifully to more cabin room, and there's ample space for two six-footers to stretch out. Even the sloping roof is not a bother when it comes to headroom. It even affords the RS7 more usable luggage room, thanks to its liftback tailgate versus the M5's conventional sedan boot.
The RS7, surprisingly, offers far more space in the back seat.
Up front, the RS7 is every bit a modern Audi and quite similar to the A6, with its angular, multi-tiered dashboard, dual-screen MMI interface and loads of brushed aluminium – all of it screams cutting-edge tech. There are, of course, some sporty touches, like a flat-bottom RS steering wheel, sports seats and what looks like unlacquered carbon-fibre in place of wood trim. There's also the latest generation of Audi's Virtual Cockpit digital dials that are crisp and just so much easier to read than the BMW's. In fact, even the driving position, which is a little higher up and offers much greater visibility, makes for a less intimidating experience.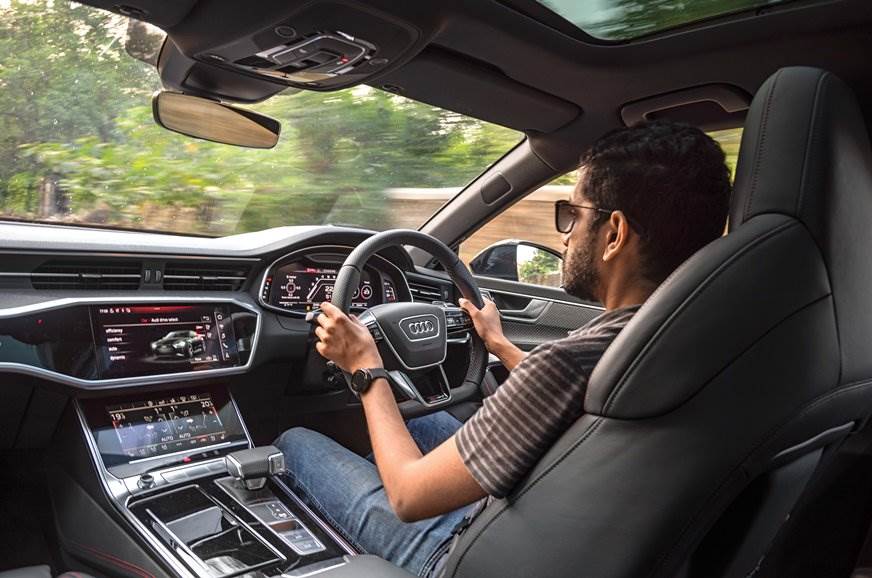 RS7's screen-heavy cabin just screams bleeding-edge tech and is high on quality too.
Velvet boxing glove
And so it continues. Get past the brief rumble at startup, and the Audi RS7 settles into a smooth, refined idle. Power delivery is gentle and the eight-speed ZF torque converter goes about its business unobtrusively in the background. A bit of road noise aside, the ride on those 21-inch wheels and the air springs is not too far off from limousine levels (we wouldn't bother with the optional sports steel springs on roads like ours). Next thing you know, you've settled snugly into the heated and cooled seats, and you'd be forgiven for forgetting you have 600 horsepower to play with.
This, of course, is because the car defaults to Comfort mode, but this can easily be remedied with a click or two of the RS Mode button, which is a shortcut to two customisable drive mode presets that can turn the wick up instantaneously and dramatically. At its most aggressive, the gearbox raises the revs and holds on to them longer, the air suspension hunkers down and firms up, the steering gains some weight, and the 4.0- litre V8 likes to make itself heard. It sounds a little fruitier and more characterful than before, too.
Yes, now it feels like an Audi RS car, and those huge dimensions quickly melt away around you. But there's something more this time around. Most RS cars, especially the old RS7, were ballistic missiles in a straight line but a bit wooden around corners. This one still accelerates like there's no tomorrow and puts its power to the road in one solid whack, with none of it wasted on building revs or boisterous wheelspin. The result is, in our tests, we even beat Audi's claimed 0-100kph time of 3.6sec, managing a 3.54! The difference is, this time it's far more agile as well.
Some of the credit must go to the optional rear-wheel steering and torque-vectoring sports rear differential (both options we recommend ticking), and the results are game changing. The RS7 tucks its wide nose into corners so much more willingly than its predecessors, and the rear follows suit gamely, powering you out of corners with a bit more histrionics. This is relative, though, and grip is still the name of the game for Audi's Quattro AWD system. The g-forces will pin your gut to the side bolster of the seat but the rear end will never fully let go.
Optional rear-wheel steer does wonders to aid agility.
Wild child
Imagine, however, that you've taken your perfect corner in the Audi as fast as the laws of physics will permit, and then in your rear-view mirror, you espy, accompanied by a small plume of tyre smoke and squeal, the BMW M5 Competition emerging from the same corner, not quite in a straight line. And that really sums up the difference between these two cars that are seemingly very similar on paper.
The M5, too, is a big luxury sedan with all-wheel drive, and a twin-turbo V8 with upwards of 600 horsepower, mated to an eight-speed auto. But it is altogether more of a handful to drive. In AWD Sport mode, the front driveshafts feel like they're only there in name, and though they will still step in to claw you out of a tight spot, this is still a very rear-biased car. You can, famously and unlike the Audi, turn all the safety nets off and switch to RWD only, but you'd have to be a really skilled driver to enjoy the subliminal feeling of a well-controlled tail-out power slide.
AWD Sport is the best way to drive, and the good bit is, if you suddenly want to change even a single parameter of the car's setup – engine, exhaust noise, steering, suspension or gearbox – you can do so via the quick-access buttons and not have to go into the menu to reconfigure your M1 and M2 presets.
Shortcuts let you tweak individual settings on the fly too.
Power delivery isn't as immediate a gut punch as in the Audi, but it's no less ferocious. BMW has tried to recapture some of the rev-happy nature of the old naturally aspirated engines, and the Competition revs out further than the standard M5, with a wider powerband. And oh, it is much louder than the Audi. Where you're more inclined to just let the Audi do all the work for you, in the M5, you'll find yourself reaching for the paddles and taking charge of the gearbox, which, though, related to the one in the RS7, feels far more aggressive and brutal.
The white-knuckle experience extends to the chassis. No absorbent air suspension here, and instead you get some really stiff steel springs and adaptive dampers. It shimmies and moves around, perhaps a bit too much for uneven Indian roads, and always keeps you on your toes. The steering is quick, sharp, and full of rewarding feel, but that also means you'll find yourself making constant corrections to keep the M5 on the straight and narrow. It's a bit of work, but it's far more rewarding when you get it right, and will always leave you grinning ear to ear.
Loud, aggressive and playful, the M5 will always leave a silly grin on your face.
The M5 Competition may be down on torque to the RS7, but it also has a full 190kg less weight to move, giving it far better power- and torque-to-weight ratios. The results speak for themselves – 0-100 came up in a scant 3.29sec in our tests!
The downside of all this? Well, even when you dial it down to its safest and most comfortable modes, the M5 Competition never truly settles down. The ride is busy and will thunk hard over potholes, the steering is a tad heavy in everyday situations, and the lowered suspension and long wheelbase might make you wince going over bigger speed humps. It just doesn't have the plush ride or everyday usability of the Audi.
Competition gets lowered, stiffened suspension all round.
Brutes in suits 
So, with cars that ended up being so different from one another, which is it going to be? It could very well be the RS7, which truly embodies the ethos of the dual-purpose, all-weather supercar for the family. It's a far more engaging experience than before, and it allows even a novice to get a handle on its performance quite easily, but there's still something quite clinical about how it goes about its business. What's more, while Audi's typically light and inert steering makes things easy in traffic, it just doesn't give you the intimacy with the road you want from a car with 600 horsepower. If you want to make a style statement, though, it has to be the RS7, because it stands out from the crowd in a way the M5 just can't.
RS7's frameless windows seriously elevate the style quotient.
But maybe you want to blend in; that makes the surprise of the performance so much sweeter, and if driving hard regularly is your top priority, the M5 Competition, with its sharper dynamics, stronger performance and greater driver focus, clearly has an edge here. It's a hard edge, though, and the BMW can be quite unforgiving on Indian roads, and that robs it of some of that everyday usability. The standard M5 was a bit better in this respect. But then a 530d will go plenty fast and keep you comfortable; you did choose the super-sedan for a reason, right? So, while the choice does finally come down to what you want from your performance luxury car, what can't be ignored is the price. At Rs 1.94 crore, the RS7 is a full Rs 39 lakh more expensive than the M5 Competition, and though each will thrill you in its own unique way, this is what finally clinches it for the BMW. 
[ad_2]

Source link