[ad_1]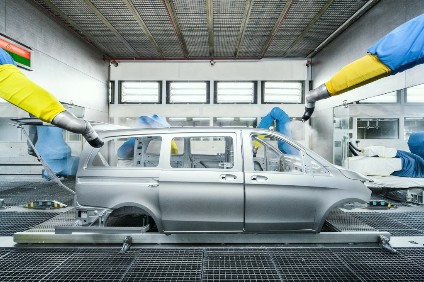 Vito paint application is largely automated; body shop is 80% robotic
Daimler's Mercedes-Vans has passed the milestone of 25 years of mid-size Vito van production at its Vitoria plant in northern Spain.
The factory in Vitoria-Gasteiz was built in 1954 and began producing DKW vehicles in 1955. The then-Mercedes-Benz AG was closely linked with Auto Union (still extant as an Audi subsidiary) in following years before acquiring full ownership of the site in 1981.
From 1988 to 1995, Mercedes-Benz produced the MB 100-180 van, the Vito's predecessor, at the Spanish plant. Subsequent factory extension, a new logistics centre and a high level of automation have since made the site one of Mercedes' most modern in Europe, Daimler said in a statement.
The start of production of the Vito successor 25 years ago was accompanied by modernisation: as part of the restructuring process, production capacity was increased to 80,000 units a year. The old MB-100 production facility was completely disassembled, the assembly halls extended and modernised and the new logistics centre built.
Largely automated work processes in the paint shop, 80% automation in the body shop and many new assembly processes increased efficiency.
The largest jump in technology was intelligent body production: the versatile platform was designed from the outset for panel van, passenger van and people carrier variants, the latter introduced later. A 3D measurement centre was also built. In line with this, individual bodies were removed from the production line at random and their geometry, accuracy of fit, and the gaps were measured electronically.
"With this constant monitoring, Mercedes-Benz was able to ensure consistent manufacturing quality at the same level as passenger cars already back in the 1990s," Daimler said.
Staff were trained for the new van generation mostly at the Sindelfingen car plant in Germany. Restructuring of the site also included the ergonomic design of workplaces which helped to maintain employees' health and also increased efficiency.
Subsequent generations of Vito saw further investment in the site – the between 2014 and 2016. Modernisation has focused on flexibility which now enables build of a wide range of models plus integration of ICE and electric drive powertrains.
Vitoria now has 4,900 employees. Located to the west of the city centre, the factory premises cover an area of 642,295 square metres. Since the 2001 extension, the production buildings now have a total area of 370,000 m², the equivalent of about 50 football pitches. The factory supplies almost all global markets and has produced over 2m vans since 1995.
Most production is Vito, which was updated in 2020. The plant also makes the passenger V-class and eVito BEV.


[ad_2]

Source link