[ad_1]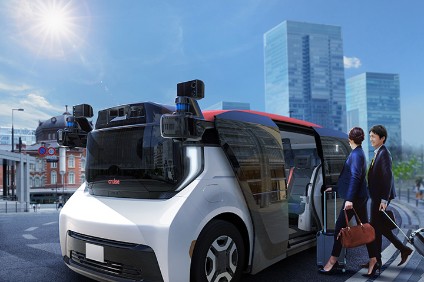 Artist's impression shows planned use of Cruise Origin AV in Japan
Cruise, the autonomous vehicle (AV) developer that's majority owned by General Motors, announced earlier this week that it had secured an additional $2 billion of funding. The cash injection comes from an investment round led by Microsoft along with existing partners GM and Honda. This pins a valuation of $30 billion on Cruise – a significant increase over the $19 billion valuation it earned in 2019 – which is impressive considering the company still has no paying customers.
This apparent disparity between valuation and customer base was addressed in a series of Tweets on Tuesday by Cruise co-founder and president, Kyle Vogt. In the thread, he opens by stating "The vanity metric: $30 billion post-money valuation…The real metric: 0 million customers…Wait… what?". He then explains that developing the "Tech to [create AVs] is hard. It's not just AI, but realtime, safety-critical AI…[along with] manufacturing, industrializing new tech, and rollout of fleets. Few companies can acquire or already possess the critical mass of talent, capital, tech, and expertise to pull this off."
Vogt, continuing, says "Even fewer [companies] will achieve escape velocity; most will end up being worth nothing…A handful of front-runner AV companies that look most likely to win are attracting substantially all of the best human capital and a huge chunk of the financial capital…That is how a company without millions of customers can be valued at $30 billion".
With this investment, along with the addition of Microsoft as a technical partner, Cruise is confidently predicting it will be one of the few victorious companies to emerge into the commercial autonomous vehicles space.
In other words, Vogt believes that the extremely high requirements for finance, infrastructure and R&D experience demanded for AV development mean only the strongest companies can survive the race to commercialise AV technology. With this investment, along with the addition of Microsoft as a technical partner, Cruise is confidently predicting it will be one of the few victorious companies to emerge into the commercial autonomous vehicles space.
The addition of Microsoft is significant for a number of reasons. It is an established tech giant with enormous financial resources at its disposal – investment power that Cruise may need to call on in the future as it races with rivals including Waymo, Baidu and Aurora to develop the technology to power AVs. In addition, Microsoft is at the cutting edge of hardware and software R&D – capabilities that dovetail neatly with the difficult technical challenge Cruise is trying to solve. This is especially relevant for edge computing – a critical IoT technology that sees some data processing handled by the AV itself before that data is relayed back to a central hub for machine learning analysis.
Finally, Cruise is generally considered to be the second-placed AV developer behind Waymo – which has probably already surpassed the $30 billion valuation it earned back in 2019. Waymo's majority shareholder is Google's parent company Alphabet, a fierce rival to Microsoft in the tech landscape. This adds an extra dimension to the race between Cruise and Waymo, now that each has secured the financial and technological backing of a tech giant.
Not everyone is convinced by Cruise's $30 billion valuation, however. Dr Richard Windsor of research group Radio Free Mobile notes that some metrics indicate that mid-field challengers in the AV field are beginning to catch up with the leading companies in the race to develop AVs. As a result, the lead enjoyed by Cruise and Waymo may be less significant than stated – this could lead to a situation where more AV companies survive to commercialisation, leading to greater competition for the likes of Cruise and Waymo.
In addition, Dr Windsor notes that the proliferation of AVs may lead to fewer total vehicles on the road thanks to greater utilisation. This would reduce the overall number of potential vehicle sales these companies could make compared with today's vehicle market, again giving reason to adjust the potential earnings each could make in the future. Windsor notes that "hype, speculation and fear of missing out" are the current driving forces behind the valuations assigned to Cruise and Waymo and that their true market value can only be assessed once both firms commercialise their AV offerings.
Time will tell whether the lofty valuations placed on the likes of Cruise will be justified. If the company can bring the cost-per-mile of its autonomous commercial services down below those of human-driven vehicles, then the potential number of addressable markets including ride hailing, food and parcel delivery, or freight logistics could see it become a highly lucrative player. If, however, the technology never fulfils its promised goals, or the field of competitor companies proves more resilient than expected, both Cruise and Waymo may have a hard time living up to the monetary valuations placed on them.
See also: 
Cruise, GM and Microsoft combine to commercialise AVs
Honda to collaborate with Cruise and GM on AVs for Japan


[ad_2]

Source link