[ad_1]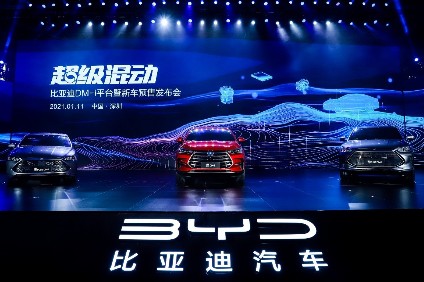 BYD launched its new hybrid system and three models in Shenzhen
BYD has officially launched its new DM-i hybrid system and three models at an event in Shenzhen.
The system uses BYD's own plug-in hybrid technology "based mostly on electricity which delivers high speeds while bringing a quiet, smooth ride that saves energy, making vehicles green and eco-friendly", according to the automaker. 
The system brings fuel consumption down to 3.8l/100km, and the combined fuel and electric cruising range exceeds 1,200km (745 miles) while the acceleration time from 0-100km/h (62mph) is claimed to be 2-3 seconds faster than that of similar fuel vehicles.
"It can provide a driving experience that feels like that of pure electric vehicles thanks to its unique technologies. Additionally, drivers will not worry about the cruising range or where to charge," BYD gushed.
With the DM-i hybrid system now released for mass production, the three new car models equipped with the system – Qin Plus DM-i, Song Plus DM-i, and Tang DM-i – began pre-sales at the launch event. 
"The DM-i hybrid system is a masterpiece of BYD which will play a role as a disruptor of fuel vehicles' supremacy," said Wang Chuanfu, BYD chairman and president. "It will transform the consumption structure of the Chinese auto market and drive us closer to the dream of clean, green travel. We want the DM-i hybrid system to enter the market segment where traditional fuel vehicles are dominant, and help us to carve out our own space in this competitive field."
The launch of the DM-i hybrid and the pre-sale of the new vehicles are milestone events for BYD, known best here in the UK and Europe for its growing penetration of the battery electric bus market, presenting a new starting point for the brand, the automaker said.
"Relying on the unique technical advantages of the DM-i hybrid system, the three new vehicles will shake up the rules of the game in the traditional fuel vehicle market, accelerate the shift towards green mobility," it added.


[ad_2]

Source link