[ad_1]

NEW DELHI: The number of pedestrians, cyclists and twowheeler riders killed in road crashes has been increasing consistently even as the country has accelerated construction of more roads for fast moving vehicles. The cumulative number of such victims categorised as vulnerable road users (VRUs) has increased from 70,831 in 2016 to 86,190 during 2019.
Even their share in total road deaths has jumped to 57% in 2019 compared to 47% in 2016. Globally, VRUs constitute nearly half of total road fatalities and these road users are termed as most vulnerable since they hardly have any protection in case of a crash.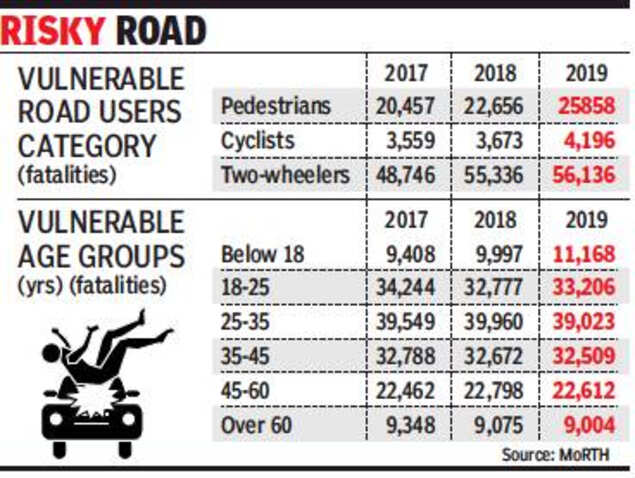 The latest report of road transport ministry's "Road Accidents in India 2019" shows that there was decline in the fatalities with regard to occupants of other motorised vehicles in 2019 compared to the previous year. For example, the number of car or taxi occupants killed in 2019 stood at 23,900 compared to 25,115, which is 4% less.
In the case of truck or lorry occupants and bus passengers, the reduction in fatalities was 11% and 20% respectively. On the contrary, data show that number of pedestrians and cyclists killed in 2019 was 14% more than 2018 in each case. There was a 1.5% increase in fatalities of two-wheeler occupants.
A study done for road transport ministry to calculate the socio economic cost of accidents had found that nearly 59% of the accident victims, who were hospitalised, were two-wheeler riders and another 15.5% were pedestrians.


[ad_2]

Source link