[ad_1]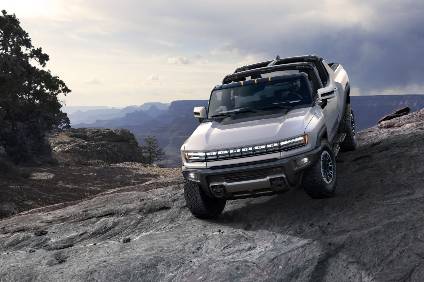 A green Hummer
Hummer is the latest nameplate to be revived for an upcoming SUV, following the relaunch of the Ford Bronco and Chevrolet Blazer. General Motors revealed its new battery-powered electric pickup truck in simultaneous advertisements across singing competition The Voice, the World Series coverage and online.
Re-launching the Hummer name is a bold strategy. It comes with quite a lot of baggage due to the image associated with previous Hummer-branded vehicles. Original H1 models were civilian versions of the US military's HMMWV or 'Humvee' and, as such, were vast in both their size and their appetite for fuel.
The second-generation model of the mid-2000s moved to a slightly more conventional platform shared with the Chevrolet Tahoe, but was still immediately recognisable due to its sheer size. This was a double-edged sword – some buyers loved the Hummer's chunky image, but others were actively put off by its imposing and excessive presence.
The financial crisis of 2008 was the final nail in the original Hummer's coffin due to increased fuel costs and the negative public perception of excess and inefficiency, with the nameplate vanishing entirely in 2010.
Now, however, General Motors has revived the brand and, in an effort to distance itself from gas-guzzling Hummers of the past, the new GMC Hummer EV is a battery-powered electric vehicle. Utilising a skateboard-style architecture, the Hummer EV features a large battery pack built into the floor. The pack is made up of 24 modules and is the first production model to use GM's latest Ultium batteries co-developed with LG Chem. The pack is rumoured to have a capacity of more than 200kWh, giving the still-very-heavy Hummer EV a claimed range of more than 350 miles.
The new Hummer EV also seeks to fix another of the original model's biggest problems – the lack of any meaningful performance. While the Hummer EV certainly hasn't lost the weight that made old Hummers so slow, it has at least brought in a significant power boost – launch models will output around 1,000hp from a triple-electric-motor setup, giving a 0-62mph time of around three seconds.
In addition to increased performance, new Hummers will offer more equipment and features compared with previous models. On-board touches include an 18-camera 'Ultravision' monitoring system to help manage the vehicle's large size, upmarket materials, and even removeable roof panels for pseudo-open-topped driving. Under the skin, the Hummer EV can be bought with 'crab mode' that sees wheels on both axles turn in the same direction, allowing the car to, in effect, drive sideways on soft and loose surfaces at very low speeds.
All the extra equipment pushes the recommended retail price of high-spec Edition 1 launch models to a sizeable $112,595, pushing it further upmarket than previous Hummer models. Competition comes in the form of the Tesla Cybertruck which, according to CEO Musk's ambitious claims, could be cheaper than the Hummer with similar performance – although it's still at the concept stage and, as a result, may not match the Hummer's expected start-of-production in late 2021.
GM may also face a battle with Rivian, which is due to start selling its R1T pickup a few months before the Hummer launches. Rivian has not confirmed a price point for the R1T but it's likely to be similar to the Hummer.
GM's launch of the Hummer EV is a confident shot across the bows of Tesla and Rivian. It's a full, production-ready electric pickup truck backed by a company with an established production track record. It's also an opportunity for GM to demonstrate whether its investment into Ultium batteries and its new electric platform has paid off, as the number of electrified vehicles on sale begins to ramp up. If so, we expect to see more widespread deployment of Ultium batteries and motors across GM's range.


[ad_2]

Source link