[ad_1]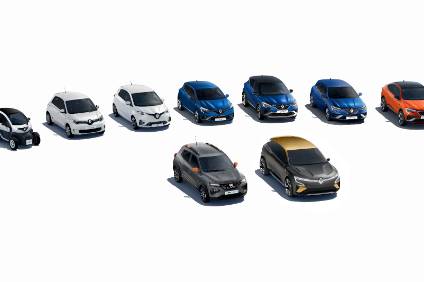 Dacia's Spring (left foreground) joins a growing line of Renault Group EVs and was one of two new models announced this week
One guaranteed certainty of editing the daily news for just-auto (20 years this year!) is that I rarely can predict which story will draw the most eyeballs during a week. Once again, I was surprised by this week's top read.
Of all vehicle brands, Renault's low budget-focused Dacia, though worthy, is hardly the first to come to mind but the news it would present its first electric model, the Spring, yesterday (15 October) during the Renault eWays online event, dedicated to electric mobility, and would start selling the cars in the first half of 2021, was the most-read article hereabouts this week. The Spring EV would be "the most affordable electric car in Europe," according to Renault. The group did, indeed, host the event as promised, announcing a commitment to carbon neutrality by 2050 in Europe and unveiling two new electric vehicles, both based on its new CMF-EV platform – the Spring and Renault brand Megane eVision: "a dynamic compact hatchback for a new generation of electric vehicles". The Spring was billed as "the most affordable electric car in Europe"(Romanian media estimated a price range of EUR15,000 to EUR20,000) though the range is only a relatively modest 200km (120 miles) – in the same ballpark as the Honda e and Mazda's first lecky car, the MX-30. I have zero experience of Dacia product but friends who own a Sandero, having traded in a late model Smart and a Honda, sing its praises. It'll be interesting, given the recent surge in European EV sales, to see how this budget model does. I suspect the answer will be "well" as it brings a pure BEV down to a whole new price point and target audience. Like my retired friends with the ICE Sandero.
Dacia was also in our news for a bit of the ol' plant reshuffle – Mioveni, Romania, will now produce only higher priced models along with the budget Logan which is the best-selling car in that country where the brand originated behind the Iron Curtain, assembling Renaults under licence. The group (Dacia is sold as Renault in some markets) decided to build the third generation Sandero exclusively in Morocco where other Dacia models already are built. The higher priced Sandero Stepway will continue to be produced in Mioveni. This was reportedly the first time Renault shifted completely production of a model from Mioveni to its Moroccan plants in Tangier and Somaca where it started building the Lodgy and Dokker in 2012, along with the Logan sedan.
Few weeks go by without Tesla in the news – this week in talks with BHP – the world's largest mining group – exploring the possibility of a deal for the supply of nickel. Nickel is a key metal in the construction of electric vehicle (EV) batteries, typically used in the cathode along with manganese and cobalt. The agreement underscores Tesla's ambition to significantly increase its production of EVs and associated batteries, along with its desire to avoid running low on raw material supplies as rival manufacturers ramp up their own EV plans. For years, Tesla had relied on its close relationship with Japanese electronics giant Panasonic for supply of the 18650 and 2170 cylindrical cells that make up its battery packs. As the electric car maker targets ever-higher production levels, it has begun to supplement this agreement with cells and materials from other companies – for example, employing cells made by China's CATL in its Chinese-built Model 3s. Article author Mike Vousden, by the way, works on GlobalData Automotive Intelligence Centre analysis and is one of our occasional contributors.
He's been extra busy on our behalf this week, also reporting South Korea-based LG Chem had recently overtaken China's CATL and Japan's Panasonic to become the world's largest supplier of lithium-ion batteries for electric vehicles (EVs). The South Korean firm's order books have been heavily bolstered by supply agreements with the likes of Geely, Tesla's Chinese factory, and GM as the co-developer of its new Ultium range of batteries. The LG Chem battery division claims to have around five years' worth of orders on its books thanks to its recent growth. As a result of the battery sales bonanza, LG Chem announced plans in September 2020 to spin off its EV battery business into a separate entity by the end of the year. This move is unlikely to see LG Chem relinquish full ownership of its battery-making activities but, instead, will see it spin off and list the company for IPO as a means to secure large-scale funds for future capital expenditure. Batteries being, obv, core to EVs, this sector is going to be very interesting to track for at least the next decade as EV makers look to secure adequate supply and the battery makers lock in supplies of raw materials.
Over the years I have seen enough R&D centres and test tracks, not to mention mules on the road testing in real world conditions, to know how much work goes into designing, developing, testing and 'productionising' yet I am always intrigued when an issue apparently shows up only after vehicles are on the road in customer hands. One such is Ford's Kuga (Escape in North America) where the automaker is delaying the US launch of the plug in hybrid variant of this SUV to 2021 after thousands of the Kuga version in Europe were recalled for problems involving fires while recharging. Media reports said the Escape PHEV originally was scheduled to go into North American production last spring but Ford changed it to summer after the coronavirus pandemic shut factories for two months. Now the automaker is postponing the model launch to 2021 as it reviews issues with the European Kuga which shares battery and engine with the Escape. Ford Australia, a while back, also had problems with self combusting models but that was due mostly due to hot catalytic converters setting light to tinder dry grass the vehicles were either parked over or had picked up when driven off road.
In this week: the regularly quarterly update from Our Man in Brazil. Though uncertainties about the Brazilian economy in 2020 remain, downturn in the auto industry will be less than expected. July to September was the year's best quarter for both sales and production after negative first and second quarters due to the impact of the coronavirus pandemic. September also saw the year's best production and sales tallies. More recent results confirm recovery, bringing some relief to the whole automotive chain. Output of 220,162 motor vehicles (cars, light commercials, lorries and buses) was 4.4% higher than in August, albeit 11% short of September 2019. Some welcome good news, for once.
Tata Motors' Jaguar Land Rover has revealed new noise cancellation technology that removes unwanted road and tyre sounds from the cabin.

The technology, introduced in the F-Pace, XF and Range Rover Velar, is capable of lowering unwanted noise peaks by 10dB and overall noise levels by 3-4dB – the equivalent of turning down the in-car sound system by four 'steps', JLR claimed. It added such significant reduction in exposure to low-frequency noises up to 300Hz can help prevent driver fatigue on longer journeys.
Few weeks go by without at least one future models article. Ford recently appeared to hint that it isn't content with Lincoln being largely restricted to North America, China and the Middle East. Division president Joy Falotico no longer has responsibility for Ford marketing too, freeing her up for what could be a bigger role in broadening the luxury brand's global reach. Lincoln has an increasingly good story to tell in both the US and the PRC where targeted spending by Ford on what have been mostly the right models is seeing the brand thrive. There's an obvious gap for something to go up against the extended wheelbase versions of the BMW 3 Series, Mercedes C-Class and Audi 4s in China yet it's unlikely that Ford would approve such a model just for that market.
This is a growing trend with EV pioneer Nissan now well entrenched in such recycling: BMW Group UK has announced a deal with Off Grid Energy for second life uses for electric vehicle (EV) batteries. The automaker will supply battery modules for mobile power units, giving the 'retired' EV batteries a useful second life when they can no longer efficiently be used in cars.
Clever new tech: Volkswagen Group's Audi is now offering Digital Matrix LED (DML) headlights as optional equipment on its 2021 e-tron and e-tron Sportback models. This is the first time DML headlights have been mass produced for a production vehicle, the automaker claimed. Comprised of 1.3m micromirrors per headlight, DML headlights essentially operate like movie projectors, emitting tiny unique particles or adaptable light.
Like Ford (at last), GM is also on a roll in China: it said this continued market recovery from the COVID-19 crisis helped its China vehicle sales grow 12% on year in July-September, its first quarterly sales growth in the country in two years. The second largest foreign automaker in China by unit sales, after Volkswagen, said it delivered 771,400 vehicles in China in the third quarter. That followed a 5% fall in the second quarter when parts of China were still emerging from lockdown.
More good news.
Have a nice weekend.
Graeme Roberts, Deputy Editor, just-auto.com


[ad_2]

Source link