[ad_1]

What is the BMW 2 Series Gran Coupe?
Seven years. That's a long time for a mainstream segment to be ignored. But that's exactly how long BMW left rivals Mercedes and Audi uncontested in the entry-level luxury sedan space. So, back in 2013, while Mercedes introduced the CLA and Audi the A3 sedan, BMW didn't venture forth with a 2 Series four-door sedan, until now.
Unveiled in 2019, the 2 Series Gran Coupe is hitting markets around the world this year and in India, it debuts with a sole 2.0-litre diesel in the 220d guise and in two trims, Sport Line and M Sport, the latter of which we have for testing. The petrol 220i Gran Coupe will come in a little later, powered by a 192hp, 2.0-litre turbocharged engine.
Besides being the long overdue competitor to the CLA and A3, the 2 Series Gran Coupe is also a break from tradition because – unlike its larger sedan siblings and even the 2 Series Coupe and Cabriolet, which are rear driven – the Gran Coupe is a front-wheel-drive car. It's built on the ULK platform that BMW also uses for the Mini range and the X1 SUV, which are front-wheel driven too.
For a brand famed for its finely honed rear-drive sedans – and when you consider that the upcoming 2 Series Coupe and Cabriolet will resolutely stick to rear-drive layouts – the decision to go with front-wheel drive seems at odds with the brand's philosophy and could rob you of the joy of driving. But BMW believes that customers in this segment, today, aren't bothered about which end of their car is driven and instead are interested in other bits like tech, comfort, aesthetics and cost, with just a bit of fun from behind the wheel thrown into the mix.
So, does it deliver that bit of fun and what's the tech like? Will it please today's techno-savvy customer? Is it comfortable and will it please the chauffer-driven set that does exist in our market? Clearly, there's a lot to find out with this review.
BMW 2 Series Gran Coupe exteriors
The car was unveiled last year to a fair amount of criticism about its styling, with many, including me, feeling it looked ungainly. But it's not as bad in the metal. I'm sure the striking blue colour our test car came in helps distract you from some of the odd angles, but they aren't as acute when you see it right in front of you. I also didn't like the pinched rear tail-lights and even after seeing them in the flesh, it didn't change my mind. That aside, there's plenty to like though, especially in the details.
There are a few odd angles but the car has some striking details.
The kidney grilles are big but unlike the massive and oddly styled ones on some newer BMWs, these seem just right, and in the M trim, they have chrome vertical bars that stand out nicely. They also do not eat into the lower portion of the bumper, which is a neat looking area, with some sporty cuts and details. The bumper lights are also topped by a sharp and angular black shroud, which adds to the aggressive and sporty front end. The all-LED, twin-barrel headlights sit quite high up and the light signatures, too, have an angular style. The bonnet has neat creases and is short in length, due to the bumper that wraps over to the top surface.
In M Sport trim, you get 18-inch alloys, while the Sport Line gets smaller 17 inchers. I love the twin, five-spoke pattern, which looks great and gives you a neat view of the disc and calipers. The lower sill looks nice and sharp and the lower edge is finished in black. The 2 Series has a rising waistline and that, along with the dipping roof, really highlights the coupe look, as do the cool frameless doors, when you open them up that is.
As mentioned earlier, the tail-lights look squeezed and this, along with the high-set rear deck, is something I didn't find attractive. But though it adds to the visual mass, the boot-top-integrated spoiler looks neat, and what's also nice is that, unlike many cars these days, the twin exhausts aren't fake, decorative bits but are indeed working pipes that add to the car's sporty appeal. 
BMW 2 Series Gran Coupe interiors, space and features
There's no getting away from it, space at the rear is cramped. Yes, this isn't a car aimed at the chauffer driven, but in our market, there will be those wanting to enter into the brand and the luxury market, and for them this will come up short, quite literally. My 5-foot 8-inch frame had only a two-finger space above, despite the cut-outs in the roof. You sit upright and, besides the comfort issue, you also end up looking out through the top section of the window, making you feel quite hemmed in.
Not for the chauffer driven, space is tight and seat back a little too upright.
Legroom is fine but it's not something you can stretch out in, and although the floor is relatively flat,the middle seat isn't very comfortable. At 430 litres, boot space is not very large either, though you can fold the rear seats in a 40:20:40 split.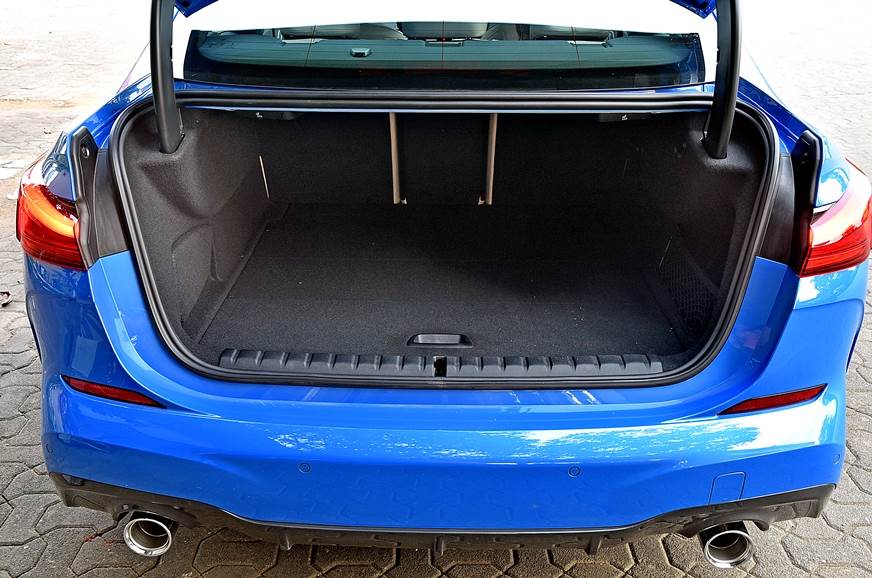 At 430 litres boot space is just about adequate.
The front is where you want to be then: the electric adjust seats are comfy and what's nice is they have adjustable side bolstering as well. The front edge can also be manually extended for additional lower thigh support, and the driver-side seat has a memory function too. Quality is top notch all around and while there were odd bits – like the AC switches that are simply way too small, and an odd texture behind the paddle shifters that doesn't feel right – the cabin is otherwise very well turned out. This entry-level BMW exudes the quality of its more expensive siblings.
AC switches are too small to use easily.
However, there are bits that we don't like. BMW's insistence on offering only Apple CarPlay and not Android Auto, especially in India where most customers are Android users, is baffling and as a car manufacturer it would be best to be platform-neutral. The other bit is the new-age BMW instrument panel that has the tacho swinging the wrong way (anti-clockwise) and in Sport mode doing away with the speedo and tacho needles in favour of small, very hard to see bars.
Omission of Android Auto is a disappointment; touchscreen is sharp and easy to use.
This aside, there's plenty of interesting kit, like the interior ambient lighting. Instead of just plain strips, BMW has used a very complex weave that runs across all four doors, as well as the dashboard trim. The good bit is, for those who like it, you have six different colours to play around with, while those who don't, can switch it off completely.
The 2 Series Gran Coupe also comes with the 'Hey BMW' voice assistant and a 10.25-inch touchscreen that can be controlled by voice, touch, the controller knob, the steering wheel buttons or even hand gestures. And this is something really useful, you aren't forced into using a limited number of command inputs. Even the volume control gets a nice, dedicated knurled knob on the dash.
Other equipment on board includes a dual-zone auto climate control, a panoramic sunroof, wireless charging for your phone with a nice little soft grip to hold it in place, and a rear-view camera. Safety kit consists of six airbags, ABS, Dynamic Stability Control, Cornering Brake Control, as well as Traction Control, which interestingly comes in a bit late, allowing at times for brief moments of front wheel spin.
Double pane sunroof looks neat.
BMW 2 Series Gran Coupe ride and handling
The big question here is, what does a front-wheel-drive BMW sedan feel like? Is it still fun? The short answer is, yes. Of course, it's front-wheel drive – especially with some amount of torque steer coming in and more so when you try powering out of a tight corner, plus you do get brief amounts of front-wheel spin on loose surfaces – but to say that the 2 Series isn't fun like its larger rear-driven brethren would be incorrect. Turn in is sharp and it doesn't understeer easily. In fact, at times, with the grippy front end, you can feel the rear end go light and wanting to step out. Grip around corners is good, you can have fun through twisty bits and the nicely weighted steering gives you quite a reassuring feel. Some may find it a bit heavy – even in Comfort mode – but it's not to the point of being bothersome, and it feels so much better when driven enthusiastically.
2.0-litre diesel has some clatter at low speeds but refined enough at higher speeds.
On the other hand, the 2.0-litre, twin-turbo-diesel engine isn't naturally enthusiastic and curiously, despite it being the same unit as in the 320d and putting out identical power and torque figures, the 2 Series doesn't accelerate as quickly as the larger 3 Series. The 220d's claimed 0-100kph time stands at 7.5sec (we managed 7.35sec) as against the 3 Series that does it in 6.8sec. But for the typical buyer, it's quick enough. Power comes in at around 1,700rpm and stays quite strong even past the 4,000rpm mark, thus making overtaking easy. The 8-speed gearbox is also a quickshifter and what's nice is that it's very intuitive and you won't have to reach for the paddles to swap cogs yourself.
BMW 2 Series Gran Coupe 220d performance (as tested)
0-60kph
3.36s
0-100kph
7.35s
20-80kph (in kickdown)
4.20s
40-100kph (in kickdown)
5.35s
The engine is fairly refined, as it should be in this segment, but at low speeds, you do hear the diesel clatter; it's always there. This is perhaps down to a lower level of sound insulation material being used, because at highway cruising speeds, tyre noise is also audible. None of this is loud to the point of being bothersome, but it's present and the 2 Series does not have that hushed ride of larger BMWs.
The ride quality is good, and the car easily soaks up all the rough and tumble of our roads, but over continuous bad stretches, you can hear the suspension working away. It sounds a lot worse than it feels, but this can be a blessing as it will remind you to back off and take care of those low-profile tyres. You will also need to back off over speed breakers, but none that we encountered had us scrapping the underside.
Should you buy a BMW 2 Series Gran Coupe?
If you're part of the chauffer-driven set, then it's quite simply a no. You'd be far better off in sedans like the Skoda Superb or even BMW's own X1 SUV. This is definitely a car for the self-driven lot. It handles well, the engine is willing, performance is strong, and you also have a decent equipment list (missing Android Auto not withstanding). Quality levels, too, are top-notch and you'll feel well-pampered inside.
Priced at Rs 41.4 lakh for the M Sport and Rs 39.3 lakh for the Sport Line (ex-showroom), the car isn't cheap though, especially when you consider that the X1 comes in at Rs 39.9 lakh and Rs 42.9 lakh for the xLine and M Sport, respectively, and with SUVs easily commanding a premium, this could be an issue. This price point is also knocking on the door of the 320d, which starts at Rs 42.10 lakh. So, this isn't your affordable BMW then. What it is, though, is a stylish, well-equipped, compact luxury car that's easily capable of delivering many smiles from behind the wheel, at a price of course.
Also see:
BMW 2 Series Gran Coupe India video review
BMW 2 Series Gran Coupe launched in India at Rs 39.30 lakh
BMW 2 Series Gran Coupe bookings open
New BMW M2, M2 Gran Coupe in the works
[ad_2]

Source link